Short Stories
May 2021: "To Rise, Blown Open" (short story) • Anathema: Spec from the Margins 
"You should know: when Calamity sundered the skies, I was minding my business. Loading groceries into the car; rock-paper-scissoring with Mr. Marvelous and Watrella, to see who'd drive home. Mundanity. Polyamorous domesticity. All the stuff you'd encouraged me to do, while on so-called sabbatical these months. 
Now, the sky is breaking."
Reviews: Quick Sip
---
April 2021: "Bandit, Reaper, Yours" (flash) • Baffling Magazine
"One hardly expects to be bested by a boutique. Especially not by some spongy wooden hovel, swollen from storms pummeling the Citadel's bay. Yet, the reaper Retwa is unmade, stripped like fresh carrion, every time she spots it."
Reviews: Quick Sip • The Book Smugglers
---
October 2020: "Conjurer's Rites" (flash) • Breathe FIYAH, Tor.com
"I should know how to spell a Graves family gathering by now.
'Once . . . th-there was . . ." I pause, chewing my heartbeat. Fashionable relatives, peppered throughout the Hilton's stately ballroom, stare on. Unimpressed. Skeptical. "Once," I repeat, louder, "there was a housekeeper who—'"
Reviews: Locus "Recommended Story," February 2021 • Quick Sip
---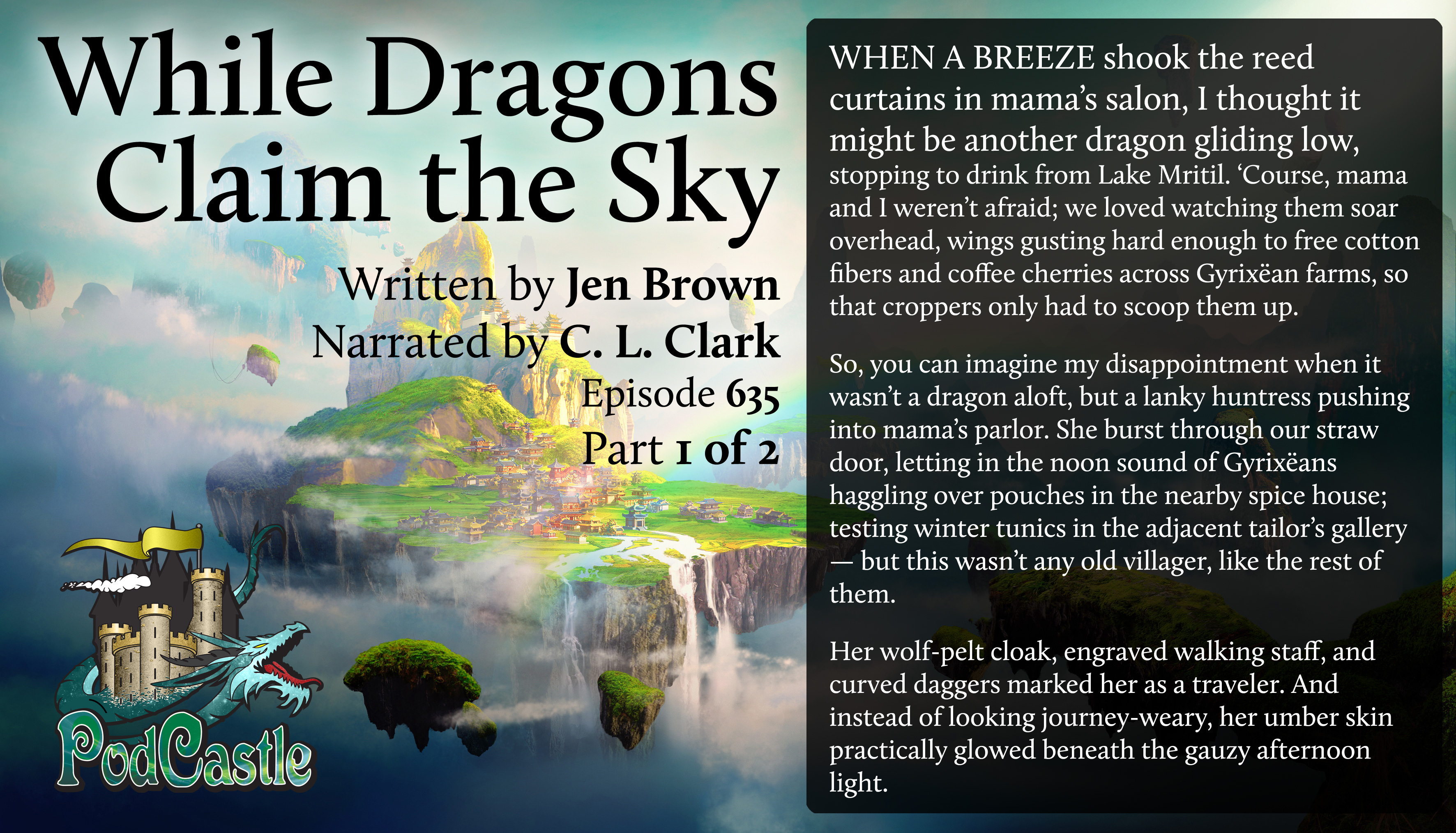 July 2020: "While Dragons Claim the Sky" (novelette; reprint) •  PodCastle, episodes #635 &  #636
Reviews: Fantasy Literature
---
April 2019: "While Dragons Claim the Sky" (novelette) • FIYAH: Magazine of Black Speculative Fiction, issue 10.
"When a breeze shook the reed curtains in mama's salon, I thought it might be another dragon gliding low, stopping to drink from Lake Mritil. 'Course, mama and I weren't afraid; we loved watching them soar overhead, wings gusting hard enough to free cotton fibers and coffee cherries across Gyrixëan farms, so that croppers only had to scoop them up."
Reviews:
The Book Smugglers • B&N SFF Roundup, April 2019 • Quick Sip
Lists:
Locus 2019 Recommended Reading List • Maria Haskins Best of 2019
Awards:
2020 "Best Novelette" finalist, Ignyte Award
2019 "Big Sip" for "Excellent Action in Short SFF"